Welcome to the closing segment of our four part Commercial Auto series. We want to thank you for reading these articles as we know, insurance information can be a bit (extremely) dry. However, make another cup of coffee, and grind through another one, because this article touches on the last bit of information you need to make sure your Commercial Auto's are properly insured.
First question – If you already have Commercial Auto Liability, why do I need to carry Commercial General Liability (CGL)?
CGL insurance covers a business for property damage and bodily injury claims, that may arise from reasons other than vehicle usage. As long as the damage or injury was caused by your operation, products or it happened on your company property, CGL can respond.
Most people believe once they have Commercial Auto Liability they do not need CGL, however, you never know when a claim could occur outside the normal vehicle operations. If you have a physical business address, you definitely need CGL to insure potential claims arising on your premises.
Another reason to carry CGL is when you are loading and unloading your vehicles. If property damage or injury arises during this process, the commercial auto liability would not respond as your vehicle is not in operation. However, the CGL policy would apply.
Second question – When am I required to carry Cargo Insurance?
If your vehicle is registered with a Class A plate under the IRP, you will be required to carry Cargo Insurance, unless you are Hauling Low Value Goods or Hauling Your Own Goods. Details are below: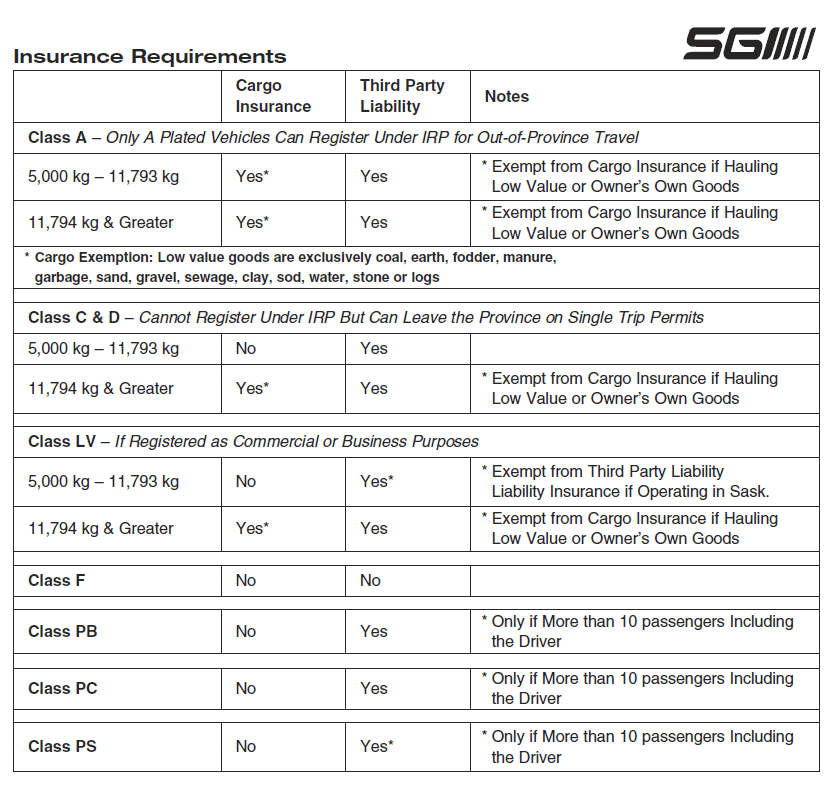 Third Question – How much cargo insurance should I be carrying?
Based on the total weight of your unit, you will be required to carry a specific limit of coverage for your cargo you are carrying. Below are the minimum amounts of insurance based on the weight of the truck, trailer and load. However, you may want to increase the limit if you are hauling higher valued commodities.

Cargo Liability:
Fourth Question – If my cargo load is oversized what should I do?

If you know your load is going to be "oversized," or  "overweight," you should contact the Saskatchewan Permit Office. Permits are available to upgrade your limits on load size, weight or vehicle class – for a single trip (some restrictions may apply). These permits are available from:

The Permit Office
Saskatchewan Government Insurance
5104 Donnelly Crs, PO Box 1580
Regina SK S4P 3C4
Phone:
(6am – 10pm) Daily
1-800-667-7575 (In Saskatchewan)
1-306-775-6969 (Outside Saskatchewan)
Fax:
1-306-775-6909
Email:
sgipermitoffice@sgi.sk.ca
Website:
www.sgi.sk.ca/businesses/permits
There is much more information regarding your Commercial Auto, Cargo, NSC, IRP, Driver Safety and Registration Requirements available in the Saskatchewan Truckers Guide. Please keep a copy of this guide nearby as it will help make sure you are properly registered and safe to be on the road.
Final Question – Where can I get Cargo Insurance and what coverage is available?

We, at Block's Agencies,  can offer you a comprehensive cargo policy that will meet your needs. Whether you haul retail goods, livestock, luggage, perishable foods, logs, gravel, grain or fertilizer. We will design a policy that ensure your hauled goods are covered, in the event that an accident were to occur. Some of the coverages that come with a Cargo policy include:
Coverage for chains, tarps, straps and electronics (Up to $25,000)

Contractual penalties

Refrigeration breakdowns

Set up and Dismantling

Terminal Coverage

Valuation Clause

Methods of Transportation (Rail, Airline, Ferry, etc)
Additional Coverages you can add:
Accidental Blending (Up to $250,000)

Enhanced Contractual Penalties

Employee Theft Coverage

Set or Partial Set Coverage

Warehousing Coverage

Non-owned trailer/container damage
There are many risks on and off the road. We want to make sure that you have peace of mind while your business is in operation. Whether that is on your property or on the open road. Whether your business is a Limo service or a Commercial Fleet Operation moving houses or hauling heavy equipment. We want to make sure your business is insured properly. Please contact one of our offices and talk to one of our experts on getting your Vehicle Registrations, Commercial Auto, CGL and Cargo policies set up today.